2009 O's Retrospective: Nick Markakis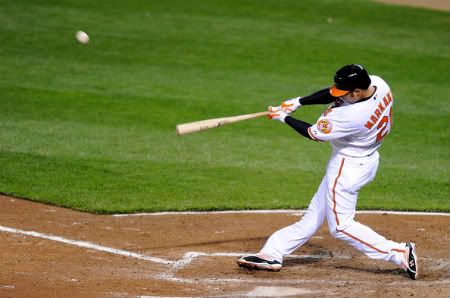 Before the season, Markakis signed a 6 year, $66 M contract with the Orioles. I thought it was a bargain, and projected Nick to hit .301/.401/.493 with 20 home runs in 650 plate appearances. Combined with plus defense in right-field, that would have made him around a 5.5 Wins Above Replacement player (adjusting for AL being better than the NL). Nick didn't exactly meet my (unreasonably?) high expectations. Markakis hit .293/.347/.453 with 18 home runs in 711 PA. His walk rate was down to a career low (and below average) 8%, which kept his OBP down, and his line-drive rate was down to a career low (and below average) 16.6%, which kept his batting average down (his .323 BABIP was high, but below his career mark of .331). After swinging at a little over 23% of pitches outside the strike-zone in '06 and '07, Nick improved that to 18% in 2008 which helped him walk 99 times with a 14.3% walk rate. In '09, he went back to swinging at 23% of balls, and so his walk rate dropped way back down with it. To go along with it, Nick actually swung at pitches that were
in
the strike-zone less than he had been - from 64-66% of the time to 61% of the time. Doing some quick algebra, we see that 28% of the pitches he swung at were balls. That's above the 25% from '06 and '07, and well above the 22% from '08. His contact rate was up which helped keep his strike-out rate down (from 19% to 15.3%), but that doesn't seem like it was a good trade-off to make on the whole. Nick's power was also down, with his 39.5 plate appearances per home run being easily the worst mark of his career (31-35 PA/HR in his three previous seasons). Here's a look at his home run chart for 2009 (from HitTrackerOnline), and then for the combined years 2006-2008 (which were all pretty similar in layout).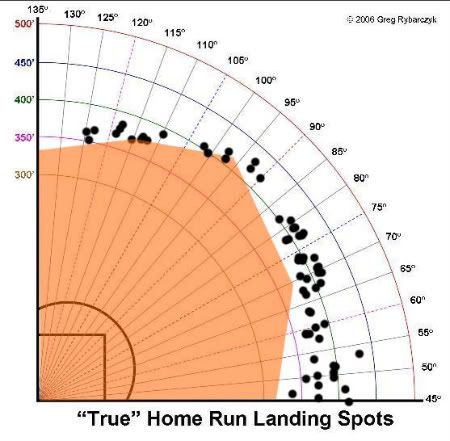 Notice the complete lack of home runs hit to left-field, whereas previously he showed relatively good opposite field power. Even center - and to a degree, right-center - aren't as oft frequented. It seems to me like Nick was trying to do a little too much in '09, looking to pull the ball for power and being a little more willing to expand the zone to do so. Maybe that's a result of batting third and fourth in the line-up instead of second, but hopefully he can go back to utilizing the skills he has (batting eye, ability to hit to all fields, doubles power) instead of trying to be something he's not. Overall offensively, Markakis' .349 wOBA and 113 wRC+ were solid marks for an outfielder by disappointing after the progression from .346 wOBA (109 wRC+) to .366 wOBA (123 wRC+) to .389 wOBA (141 wRC+) to start his career. Defensively, Nick's -5.8 UZR was the worst of his career. He still showed he has a good arm with 13 assists and a +2.4 arm component of UZR, but his range went from +4.7 runs to -8.6 runs. For his career, Markakis' UZR/150 is still +3.5 runs in right-field, but that's almost entirely due to his throwing. His range appears to be about average, but that doesn't mean he can't be a slight plus with the glove when taking the entire package into account. Putting it together, Markakis contributed just 2.2 WAR according to FanGraphs. That's well below last season's 6.3 WAR, as well as 2007's 3.8 WAR - and while better than the 2.0 WAR from 2006 (his rookie season), that's largely due to less playing time (just 542 PA). I definitely think Nick will bounce back some in 2010, but I'm afraid that 2008 might have been a career year for him. I was a huge fan of the O's signing Markakis to his longterm contract, and he should still be well worth it (if not quite as much of a bargain as I has initially thought).

Photo by Greg Fiume.

In part thirty-eight of my almost 50 part series "Better Know An Oriole" (otherwise known as 2009 Orioles Retrospective), I take a look at right-fielder Nick Markakis... THE FIGHTIN' FRANCHISE CORNER-STONE!