Early 2011 Orioles Projections
There's still a long way to go before the season, but with the Orioles' starting line-up seeming mostly set, I though I'd throw out some early projections for the team. Very preliminary, but in the ballpark I think.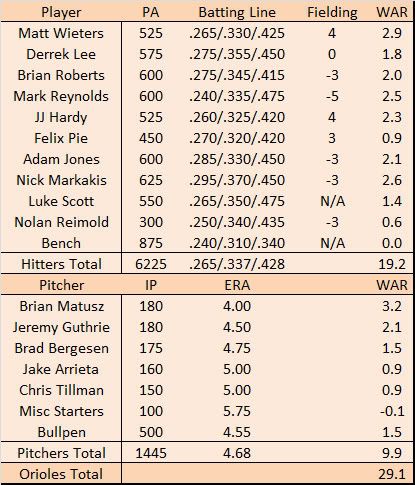 That 29 WAR translates into around a 76 win club, which doesn't seem unreasonable. The pitching here is a little worse than last year's crew actually, which probably won't be the case upon further run-throughs. The offense is improved by ~20 points of OBP and ~40 points of SLG, which isn't crazy given that they'll be going from 1-2 holes in the line-up to practically zero. There's a very real chance for every starter to be at least league average next year. That would be a very good base from which to make a run at .500.
---
Stats:
WAR